Earn 5 Reward Points by commenting the blog post
What is thangka?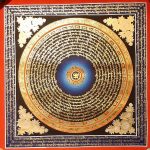 A thangka is a traditional art or painting originated from Asia typically from Tibet. The art typically tells a Buddhist story of philosophy. Tibetan thangka is typically made on cotton, silk brocade, usually depicting a Buddhist deity, Buddhist philosophy or Buddhist ancient scenarios, or mandala with intricate details and vibrant colors.
Thangkas are often used for meditation and teaching purpose, and they can also be used as a form of  wall decoration. In essence,  A thangka is a Tibetan Buddhist painting that serves as a visual representation of Buddhist teachings and deities. The main purpose is to use it as a meditation tool and a means of conveying spiritual concepts. It is often called Tibetan Thangka because it is believed to have originated from Tibet.
How is a thangka made?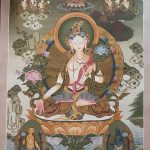 Thangkas are Buddhist paintings based on Buddhist philosophy and deities. It is a visual form of storytelling of Buddhist Teachings. So before any thangka can be painted an artist has to decide on which philosophy to story tell. Based on that, further preparation of materials and designs follow.
Tibetan Thangkas are handcrafted by skilled artisans in Nepal(nowadays mostly made in Nepal) using cotton canvas, poster color, 24 k gold paint, stone color and silk brocade.  They are Handmade by skilled artisans in Nepal, known for their expertise in traditional Buddhist art.
Buddhist Thangkas are typically made by a single artist, who will first sketch out the design on the canvas. The artist will then use a variety of brushes and paints to create the painting. Thangkas can take anywhere from a few weeks to several months to complete.
The process can be divided into the following steps:
1.       Preparation of Materials: Thangkas are painted on cotton canvas. The colors that are used are poster color, gold paint, stone color. Also a material to make traditional brocade is chosen.
2.       Drawing Process: The painting process involves sketching the design based on the Buddhist philosophy to portray. This can either be a particular Buddhist teachings like Wheel of Life or They can be a Single Deity like Shakyamuni Buddha or They can be group of Deities like 21 Taras.
In addition to that the thangkas can be based on different Buddhist Mandalas. You can check more on this article here -> Art of thangka Painting. Once the design is finalized primary design is sketched. On top of that next phase is to apply layers of colors, and adding intricate details. 24k Gold paint is often used to highlight certain elements.
3.       Final step is to mount brocade. Typical traditional silk brocade is mounted to give it a frame to make it unique Buddhist art. Brocade can come in 3 different styles. One is normal silk brocade which is relatively cheaper, second one is Chundi Brocade which is more intricate in design and fabrics used are high quality. The third one is Khadi Brocade. This one is the most expensive one as it depicts the most expensive fabrics and design patterns.
How do I take care of my thangka?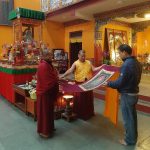 Thangkas should be kept and stored in  a cool and dry places where moisture will not affect the quality of the silk. When you are done with displaying or in times when you do not have to display or show it to your visitors or friends it is advised to not keep it in brocade. It should be rolled up and kept safe.They should not be exposed to direct sunlight or moisture. Thangkas can be cleaned by gently dusting or wiping them with a soft cotton cloth.
How do I hang my thangka?
Thangkas can be hung on a wall by a wooden or brass rod with cords or ribbons that is attached to the top of the textile backing or brocade. The rod or stick can then be secured to the wall using nails or hooks. They can also be hung from a ceiling using a cord or chain.