Dharma Store for Tibetan and Nepalese Handicraft – Your All in One Solution to Sourcing Buddha Statues- Singing Bowls and other Buddhist Dharma Supplies

Welcome to Shakya Handicraft-Dharma Store. We manufacture and export Buddha Statues, Singing Bowls, Tibetan Thangka Paintings, Buddhist Rituals items, 925 Silver Jewelry, Tibetan Rugs and many other Buddhist supplies. We are a group of manufacturers so we can provide you products with wholesale factory prices depending on your requirement and size of order. If you have any questions feel free to Contact Us.
Products in our dharma store are all high quality handmade items. Please do check our items and purchase with confidence as we have very good shipping and refund policies. We accept all kinds of payment credit card, paypal and bank wire.We are always there to help you out.
---
Interested in Buying Buddhist Supplies in wholesale?
We can help you to get items in bulk. We have many different product lines specially Wholesale Buddha statues, singing bowls, ritual items, silver jewelry and thangka paintings.Of course for wholesale dealing MOQ is must otherwise it is not considered wholesale. Depending on products we set Minimum Order Quantity per order so that the price can be as best as possible. For wholesale inquiries check Wholesale Section.
---
Buddha Statues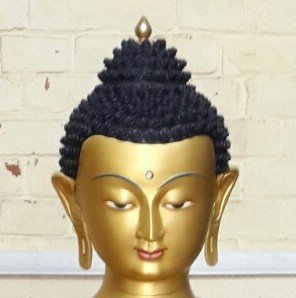 Making of a Buddha statue is a time consuming process that requires great skill and patience. Completing a Statue can take from 3 months to 6 months time. In case of large Buddha statues it can take even up to years of time to make it. It takes effort of many different kinds of artisans to accomplish it. Artisans specializing in making wax models to those who cover it in clay and go through the process of casting. And at the other end efforts and skill of carving artists, gold plating and painting artists have their own role significance.
This method of making Buddha statues originates from Newar society of Nepal specially Lalitpur in the valley of Kathmandu. Since ancient times Newars specially Shakya Families are involved in the art of making the Buddha statues. The skill required is preserved and passed down from generation to generation till today. So, we are proud to preserve our Art and Culture and present to you the Buddha Statues we have been making for centuries
Our Buddha Statues are primarily made of copper. We use the method called "Lost Wax Method" for casting these Buddha Figurines. It is known as Lost Wax method as the original wax model is drained out by heat from the mold and is LOST into the form of metal. In our case copper. There are mainly three major steps of casting a sculpture and two other steps to completing a Buddha statue.
Sculpturing a wax mold,
Sculpturing a clay mold and
Metal casting a Buddha statue.
Hand Carving a Buddha statue
Polishing and Finishing a Buddha Statue with either plain copper or gold plated body.
Once the casting is completed then the statue is hand-carved into different Newar and Tibetan designs. After that it is either gold plated or left in copper finishing. Face is very integral part of the statues. It needs to be carefully carved and hand-painted as it needs to portray compassion. Check here to learn more about sculpting Buddha statue.
We have many different types of Buddha statues. They can be polished to complete in gold plated statues, where the statues can be either partially gold plated or fully gold plated statues. Face is always painted with 24 k gold. Below are the gold Buddha statues from our dharma store.
The Buddha sculptures can also come in antique look or plain copper statues. In case of plain statues they are finely carved and polished to give natural look. In case of antique look finishing they are oxidized in dark or light brown color or combination of two color. Here are the examples of the statues from our dharma shop.
---
Singing Bowls
History of Tibetan Bowls goes back to the 8th century A.D. The singing bowls also known as Magic Bowls are considered to be a long lost forgotten art. According to the analysis of old bowls, it reveals that they were made from a variety of metal alloys consisting silver, gold, nickel, copper, zinc, antimony, tin, lead, cobalt, bismuth, arsenic, cadmium, and iron. One of the highest quality bowls are made of the combination of seven metals among the described ones above. Very few manufacturers make such genuine bowls nowadays.
However, we are proud to introduce you the very same bowls that ancients used to make, genuine seven metal bowls. Our Singing bowls are one of a kind high quality bowls made of seven metals. They are hand-hammered and hand-carved in Nepal.
There are mainly two types of singing bowls. One is Plain seven metal bowls and other is carved bowls. Carved designs come in many different Tibetan Buddhist symbols. Most common one is Tibetan Om Mani Mantra Symbol carved either in the centre of the bowl from inside or at the back or outside back of the bowl. It can also be carved around the side rims of the bowl from both inside and outside. Here are the examples of carved bowls with Om Mani Mantra.
Besides Tibetan Om Mantra bowls other designs can also come. They can come either separately or in conjunction with Tibetan Om Mantra. The designs like flower of life. Buddha eyes or also called Swoyambhu eyes, chakra and other symbols like conch shell or shankha, dourje, double dorje etc. Here are the examples of the bowls in our dharma store.
On the other hand there are plain bowls like these. They can come shiny or in antique look where the bowls are treated to make them look old. But these are not really old bowls. They can either come individually or in a set of seven chakra bowls with their corresponding 7 (seven) chakra notes C, D, E , F, G, A, B.

Sizes of these bowls can come in different size. They can vary from 5cm in diameter to 45cm -60 cm and even 90 cm in diameter. Custom sizes can be as bigger as you need or want.
There are two methods of playing singing bowls, either by rubbing a mallet around the rim or by striking the side of the bowls with the mallet. Both the methods produce quite distinctive sounds. The sound of a singing bowl starts peacefully and builds up steadily. The prime idea is deep relaxation that provides you to contact with your inner self.
Sound is vibration, and that vibration moves throughout your body. The sound vibration of the singing bowl arouses cellular memory and permeates the sensation with the healing energy. Some of them also vibrate with certain altered brain states. The sound resonating from the singing bowl is very pure and potent in centering the mind and the body. These sounds have a profound impact on energy body of living beings, but also on the environment in general. The legends say that the secrets of sound coming from a singing bowl yield so much power that they must be kept hidden.
If you want to learn more about singing bowls. Check this article here. Singing Bowls- What are they?
---
Tibetan Thangka Paintings
Tibetan Thangka is considered timeless art with eternal truth. It represent history art and Buddhist teaching in the form of visual art. Though thangkas are famous as Tibetan Thangka the orgin is ironically not Tibet. Most of Tibetan Thangkas are not created in Tibet. They are painted in Nepal. It is the original source. The artisans of Kathmandu valley deserves credit for preserving and developing this ancient Buddhist art.
Tibetan Thangka market in Nepal are currently concentrated Patan, Baktapur , Basantapur and Thamel of Nepal. Lama aritsans are particularly famous for painting in Tibetan style. However there are Newar artisans as well who paint in Newari style thankgas also known as Pauba. Patan produces the finest Thangkas for export, and most of the local artisans depend on local tourists, local monasteries and Buddhist followers. In addition to that international monasteris and Buddhist followers also import thangkas.Not surprisingly the Thangkas made in Nepal are in great demand around the world.
Thangka- an ideal example of Buddhist artistry and philosophy. A powerful source of Buddhist Philosophy and meditation tool. A fine piece for adding oriental beauty to your private life. A timeless and precious gift to a person you love. A decorative piece in your home lobby and living room. A symbolic piece for placing in your altar is definitely somthing you will never regret in acquiring. There are however many different styles of thangkas. To learn more you can check our guide here.
We have collection of different thangka paintings. Dedicated Lama and Newar thangka painters or artisans work for us to make these paintings. We also do matching Tibetan silk brocading.Please check our Tibetan thangka paintings available for sale in our Dharma Store below.
---
Tibetan Jewelry – 925 Silver Jewelry
We provide Authentic Tibetan Silver Jewelry made in Nepal. Artisans from Nepal are top rated silver craftsmen. They have acquired their skill and talent from their ancestors who have been working as silversmiths since six hundred years ago . Tibetan jewelry are popular around the world. Tibetan Jewelry from Nepal has special relationship to Tibetan monasteries and cultures.In past history there used to be a lot of trade fairs between Nepal and Tibet. Since then Tibetan Art including silver jewelry are exported to the monasteries of Tibet and also other Tibetan devotees. Here in Nepal we call Tibet as Lhasa. And with the popularity of Tibetan Buddhism around the world thanks to Guru Rimpoche like Dalai Lama and others, these silver jewelry exported from Nepal to Tibet also gained popularity as Tibetan silver jewelry
Important factor to keep in mind is the traditional Tibetan designs and symbols carved on the jewelry. The design should resemble Buddhist symbols and philosophy. Caution has to be taken in buying Tibetan Silver Jewelry. A scientific test done during the year 2007 revealed that the majority of the fraudulent so called Tibetan sterling silver jewelry do not consist of 925 silver but some-kind of other compounds even consisting of unhealthy lead compound which could even cause to skin cancer.These matters are prone to neural disorders, high blood pressure, fertility complications, psychological retardation, muscle and joint problems, hearing difficulties, kidney failures, and so on.
Our silver jewelry is 100% authentic with real 925 silver used to make them. Genuine Tibetan silver jewelry consist of solid 925 silver.This means metallurgical test should indicate 92.5 % silver detail. Generally if the silver content is found to be less than this proportion, it should not be considered as genuine Tibetan 925 silver jewellery. For more details Check our guide here on identiying genuine Tibetan Jewelry.
Our artisans dedicated to making Tibetan silver jewelry are Newars from Nepal. They are very talented and hard working artisans who make different kinds of interesting Buddhist charms, earrings, pendants and many more. Do check our dharma store for Tibetan jewelry section.