Earn 5 Reward Points by commenting the blog post
Sculpting Buddha Statue By Lost Wax Method
Sculpting Buddha statue is a lengthy process which requires great skill and time. Sculpting of a large piece can take up to 6 or even more months and several artisans to work on it for accomplishment. In ancient times, the methods of making statues were kept secret among few families in Patan and Kathmandu. The skill was passed down to generation and was guarded from those outside the family circle.
The process of making of a Buddha statue is known as Lost Wax method as the original wax model is drained out by heat from the mold and is LOST in that sense. There are mainly three major steps of casting a sculpture and two other steps to completing a Buddha statue.
How to make a Buddha statue step by step?
Sculpturing a wax mold,
Making of a Buddha clay model
Metal casting.
Hand Carving
Polishing and Finishing with either plain copper or gold plated body.

Face is also either painted with 24 k gold or left with copper finish.
Plain copper can be made to look new or antique
Firstly, a core model is made based on a buddha rupa needed using beeswax. This should represent exactly how the statue will appear after completion. For each statue, separate core wax model should be made. The thickness of wax model should exactly be as the thickness desired for the metal statue. Tools made from horn of animals are used to design the wax model. The black wax model is made by softening the wax by heating. The artist gives a definite structure and makes a wax model as how it should appear in metal.
After the wax model is ready, in the second stage, it is covered with thin layer of liquefied soil mixed with cow dung known as clay. A thick layer of clay is put on top of the structure which is mixed with rice peel to make it thicker.
There are different kinds of clay. They can be grey clay, yellow clay, black clay. They are used based on the type of statues needed to make. Like for finer prints and carvings imprints we use the right proportion of cow-dong and grey clay. It gives more smoother impressions. Once the wax model is covered with clay, it is dried in sun for several days. The nails are put through the wax to hold the outer mold away from the core, which stop it from collapsing as the metal run through.
Once the wax model is dried completely it is baked in a very hot kiln which melts the wax inside. The melted wax is poured out by making a small hole with a pointed tool. Through same hole the extremely heated and liquefied metal is poured inside. The amount of the required metal can be estimated from the amount of wax used because the liquid metal will replace the beeswax in the mold block. Normally one kilogram of wax is replaced by 100 grams of metal. So this is difficult very process which has to be done carefully. The wax model should not be damaged or broken in the process.
The metal takes the shape of the wax inside the soil coat. It is placed in the cold water for cooling. After several days the soil coated is broken by hammer and the rough metal statue is obtained. This entire process is completed in more or less 2 months. This depends on season and the particular days. If they are mostly sunny days then the time required to dry up the clay coat will shorten. If it is winter season and there are mostly damp days with out sun then it takes a lot of time.
The rough metal statue still needs a lot of work- it needs to be smoothed, trimmed, carved and polished. Sometime there are leftover chunks of metal that need to fill off. The holes from the nails that kept the core separate from the plaster mold during casting may be filled with the same metal as was used for the image- so you can hardly see them. If the metal failed to reach any parts of the image, patches may also now be added on and smoothed over.Once the rough metal statue is smoothed and polished, then carving and detailing works are done.
Generally body is divided into two parts. One is lotus base and the other is the body and head of a statue. Fine hand carving is one of the most critical part of the process as it defines the outer look and higher quality. More finer the carvings with more details higher is the quality of a statue. You can take a look at the pictures below.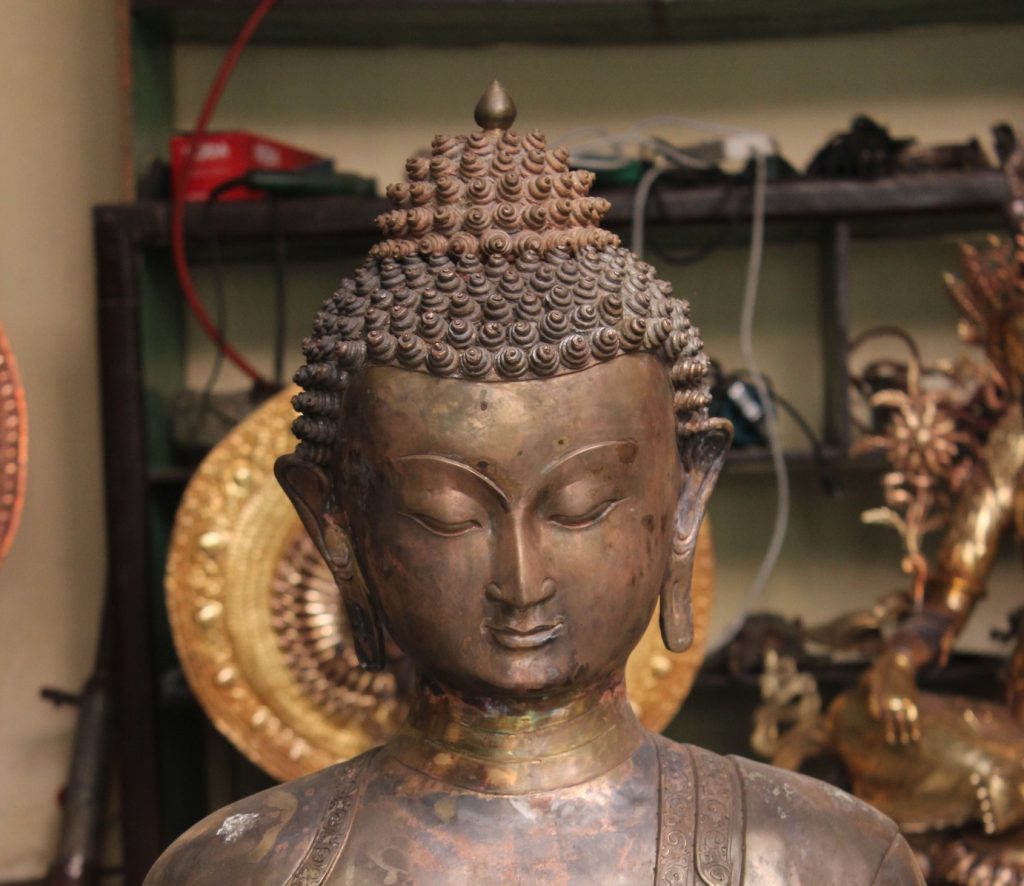 Sculpting Buddha Face Carvings
Now, the statue can be completed in either plain polished copper , oxidized to give antique look, Partially or fully gold plated body, 24k gold painted face etc. Buyers can customize at this particular state. Once the statue is completed in either style it cannot be reverted. Here is an example of a sculpting Buddha work in progress. It is on the way to getting partially gold plated body and face gold painted with 24 k gold.
At this state all the carvings are done with initial polishing of the body. Face is painted with first layer of gold. Once the gold is dried up paintings are done on top of it with eyes, nose, lips and tika. Also the hair color is painted with either black blue color depending on buyers choice. Lotus base is separately worked on where the petals are gold plated. In this particular case, it is partially gold plated. Only the flesh parts are gold plated. The robe parts are painted with brown color.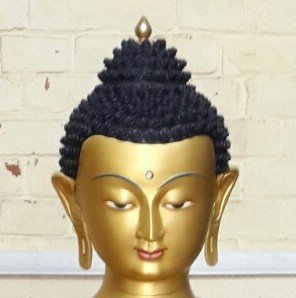 Face is the most essential part. It is ultimately the part which gives away expression. It needs to have compassionate look as of the enlightened Buddha. Only specialized artisans focused on painting faces can do it with their decades of experience.You can notice the details in making eyes, eyebrows above, tika, nose work, lips and even the complexion of the cheek and overall face. The combination has to be perfect to give a compassionate look. While painting neck part is also taken care of. And You have to take notice of the long ears too. It is also gold painted by hand carefully. So this is how we make a Buddha Face look compassionate and inspiring.After all the hard work , its time to put all things together with base lotus and body fit together. And here is the final look of the finely completed face
The face is the final stage of making a buddha statue. Once it is completed we can consider Buddha statue to be completed. And here is the example of completed partially gold plated Buddha Statue.
Of course, you can find beautiful Buddha statues that are completed in other styles as well. They can come in Full Gold Statue. Here the entire body is fully gold plated with 24 k gold. Gold plating in traditional Newari style is different than simply electroplating. In traditional gold plating gold is mixed with ancient solution to make it so call pala. It is then pasted by hand on the parts of the statues. Where as in electroplating the statue is simply dipped in liquid solution using modern electroplating technique. Traditional method is much expensive and consumes lots of gold than in electroplating. The quality of gold plating in traditional way is much higher than electroplating.
Besides gold plating Buddha statues can come in other forms as well like oxidized and antiquated to give antique look. They can also be completed in plain copper finish. You can check our beautiful Buddha statues made by lost wax method in our Buddhist Store. Check out Full Gold Buddha statue, Partial gold Buddha Statue, Antique Look Buddha Statue etc. from our store.
If you are interested in bulk order we have our wholesale section. Here you can Contact Us with your customized need and we will get back to you with our best wholesale price-list.
How do you find this guide. Is it helpful? Or do you feel the need to know more on any particular area. Please do Contact Us and we will get back to you with best answers as soon as possible.