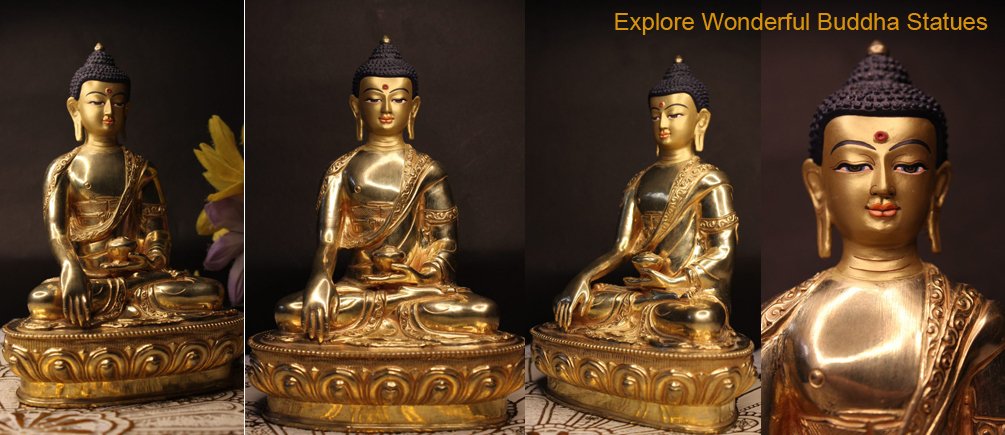 Earn 5 Reward Points by commenting the blog post
What are different types of Buddha statues?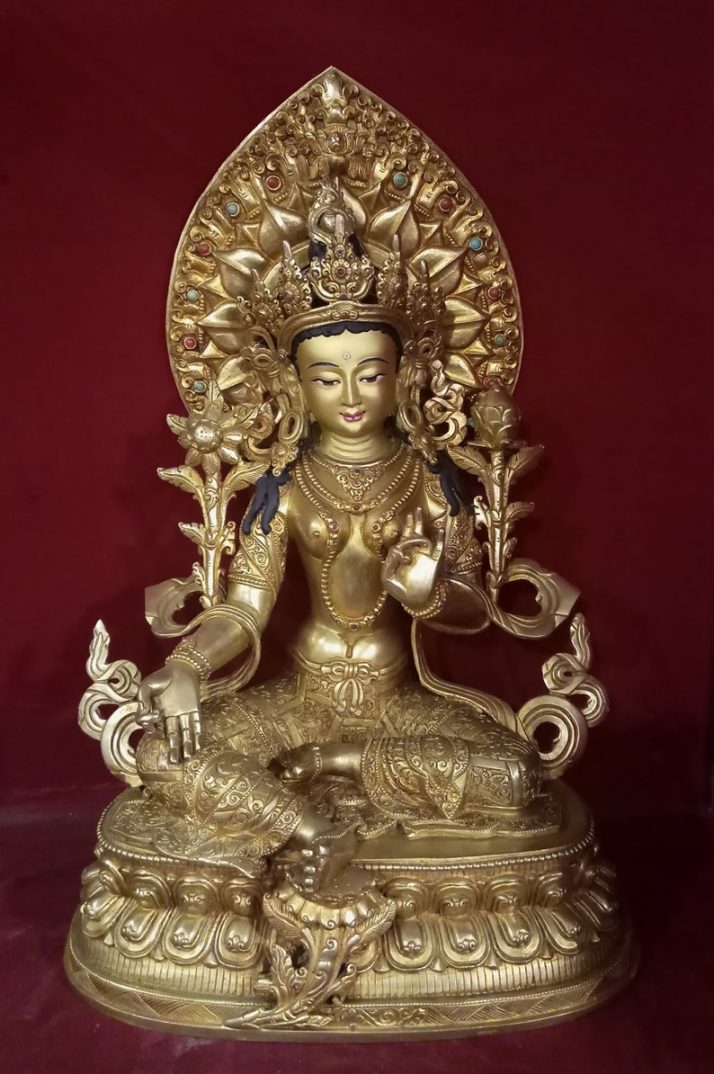 Buddha statues can be found in different types and forms according to various materials used while making of the Buddha Statues specially when molding. A Buddha statue can be made from different materials for instance- copper, brass, ceramics, jade stone, wood, and lots more. The material composition of a Buddha statue may differ in different styles of the Buddha figurines. Here are some of the different types of Buddha Statues according to their material composition.
Copper Buddha Statues:
Buddha figurines made of copper metal are by far the most famous in the whole world. Copper is best material for detail carvings. The softness of copper compared to other materials like brass, stone or even bronze makes it ideal for the artisans to carve fine designs on it. Copper is also a good material for gilding gold on it. The copper Buddha statues can be gold plated either fully or partially on the body parts of the statues. This adds extra sparkle or golden shine that makes it look exclusive, high standard and elegant product.
These are the very reasons why the copper Buddha statues have gained so much popularity. These statues can either be left in copper finish or they can be gold plated. On the one hand they can have brand new look with just copper polishing. Here the statue is buffed and polished with some wax to make it shine bright. On the other hand, with plain copper they can be oxidized to give antique look. Antique look can also be done in different styles. They can be made to look real old with some ancient techniques. Or they can be made to look like two colored antique look Buddha statues.
Here are some of the examples of antique look simulated Buddha statues.
Golden Buddha Statues
Golden Buddha Statues are the statues made of either copper or bronze with gold gilding or plating on the body parts. These statues are rich in color and portrays golden color making it elegant and special. It is extraordinary art to make the golden statues. They can either come in partially gold plated body ( also called as half gold plated statues, in terms of workers or artisans language) or they can come with fully gold plated body. Face in both the cases is carefully painted with 24k gold.
Golden color is obtained by the use of 24 k pure gold for painting on the face or plating the body parts. Here are some of the examples of golden Buddha statues with partial as well as fully gold plated body.
Golden Buddha statues are the specialty of our store. They can either come in fully gold plated body from head to toe or the Buddha statues can come in partially  gold plated only plating some flesh parts and robes of the body. Face is hand painted with gold in both the cases. Our statues are also made of copper for the very reason to create the best Buddha statues with best carvings and designs.
Bronze Buddhist Statues:
Most of the antique Buddha figurines were created upon bronze metal. Because of their rarity and relic identity, bronze figurines tend to be relatively more costly. Bronze is the mixture of different materials like copper, brass etc.
Stone Garden Buddha:
Stone Buddha sculptures have been developed by historically in Nepal by native Buddhist craftsmen. Over the time actual art sort of lost its way due to political and religious invasions but these days it has revived in Nepal and also around the world better know as Garden Statues. Stone Buddha figurines tend to be heavier and designs are usually primitive, less detailed compared to copper statues.
Wooden Buddha Decor:
Buddha figurines made from wooden tend to be less costly and lighter than metallic kinds. But, it really is vulnerable which can get damaged by termite and water too. While selecting wooden statues, ensure the wood is actually high quality, with no cracks on the surface.
Brass Buddha Sculpture:
They really are nearly similar to copper statues, but are less expensive. Compared to copper metal, brass is prone to splits and also can create defect while carving. Because of this, fine workmanship is impossible on brass.
Resin Statues:
Buddha statues which made of resin can be found in different colors in the market. However, many people believe that the resin Buddha statue have peculiar dark, deep reddish color. It is because dark colored resin statues have been more popular than any other bright colored statues. The color effect is the consequence of a special chemical powder ingredient utilized. Ceramics: They're consists of China clay. Generally known as earthenware, porcelain Buddha statues are the least expensive, yet the very least durable.
Gem stones Buddha Statues:
Turquoise, jade, Lapis lazuli, and so forth are a handful of common gemstone attached with Buddha figurines made in Nepal. When such precious stones are employed, lavishness and esteem tend to enhance, and obviously price also increases.