Earn 5 Reward Points by commenting the blog post
Giving meditation gifts to Buddhist Monks
How to find the right Meditation gifts ?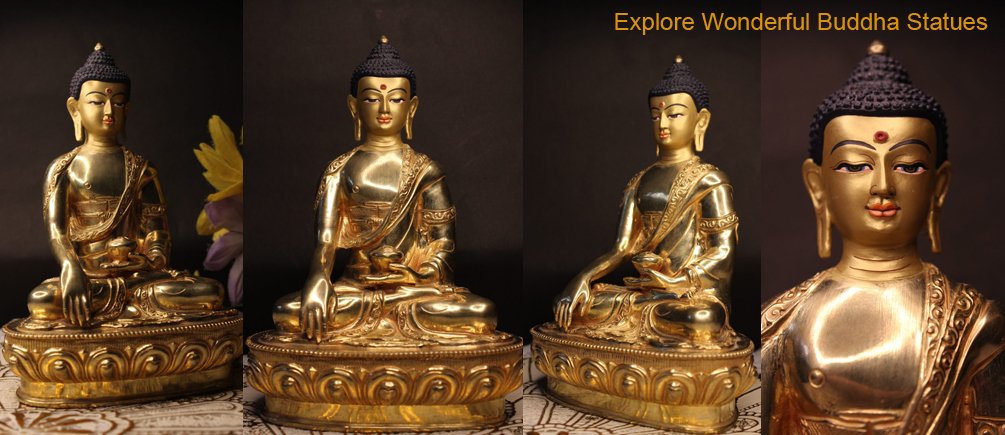 Follow these steps for finding the right meditation gifts
Total Time: 5 minutes
Educate yourself about meditation gifts in the context of Buddhist rituals objects

When it comes to meditation gifts and mindfulness presents Buddhist ritual gifts come into play. Buddhist rituals have been significant part of Buddhism since the time of Buddha. Buddhist rituals express many dimensions of our human aspects and situation including our relationships and also our spiritual life. If Buddhist rituals are preformed whole-heartily, they help us to discover and express some of our deepest feelings and aspirations. Buddhist rituals have much in common with prayers and its impact on practitioners. Buddhist rituals can strengthen and highlight the values, intentions, and experiences we have chosen to live by.
Know who you are giving a gift to and what kinds of suitable meditation gifts you want to give.

Who do you want the meditation gifts be given to? Your target recipient holds the clue to meditation gift ideas. They can be your lover, girlfriend, closely related loved ones, family members, Buddhist friends or a Buddhist monk. If it is she then there are relevant meditation gifts for her. Similarly if its male recipient then there are suitable meditation gifts for him. And there are mindfulness gifts for meditation lovers.
On the other hand they could be entirely categorized as Buddhist friends who you would love to give a pleasant surprise with best meditation gifts. Even more they could be Buddhist monks, a spiritual teachers of yours. you can give mindfulness presents or meditation presents to gift a Buddhist monk or a Buddhist nun too.
Do a little research on what is available in market

There are many different varieties of meditation gifts available in market. Take some time to do a research on the relevant products or options. Your can simple search terms such as "meditation gifts" or "Buddhist gifts" or "gifts for a Buddhist friend of monk" or "mindfulness gifts" etc in google or other search engines or your favorite social media platforms. This way you are presented with relevant products.
Grasp a general knowledge of the meditation gifts

Buddhist meditation gifts or objects convey the way artifacts function in traditional Buddhist altar or the way the are used in everyday prayers. The Buddhist ritual objects are used in personal prayers or religious rites where they are mostly related to ritual implements. This tradition is most widely used in Tibetan and Newar Buddhism. Objects such as Bell and Vajra, prayer wheels, Butter lamps, Ritual conch shells, Prayer Flags, Phurba ("magic dagger"), Incense Sticks, Offering bowls, Damaru, and many more are the repertoire of ritual items used in Buddhism. Each ritual object has its specific importance in the tradition of Tibetan and Newari Buddhism.
Narrow down products and choose the right spiritual gift for your Buddhist friend.

Below are the different categories of products that might be suitable for you. Here we guide you to help you choose the right gifts for your loved ones. Each category is thoroughly explained. Once you go through all the information you will have plenty of knowledge to make your choice and right decisions. These meditation gifts will certainly delight you spiritual friend in concern.
Meditation gifts in the form of Buddhist rituals objects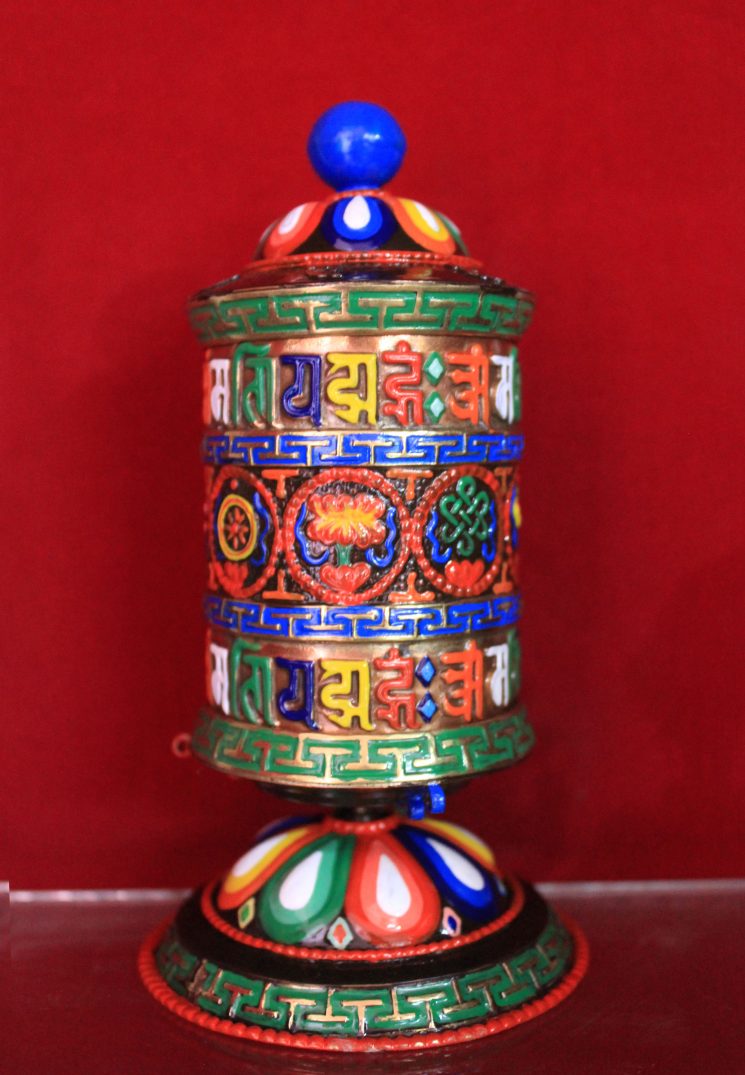 Meditation gifts or spiritual gifts in the form of Buddhist gifts and rituals objects mentioned in details below helps us to strengthen the connection between Dharma(spiritual teachings) and your inner self. These gifts help to keep our environment and surrounding peaceful and spiritual. They are there to constantly remind us of the Buddha's teachings. Feeling of stronger connection with the Dharma can be meaningful in itself. These spiritual objects can give you inner strength to carry on when you are having tough times.
Bell and Dorje as Buddhist gifts for a Buddhist monk
Bell and Vajra (Dorje) are the ritual implements used together that represents the inseparability of wisdom and compassion. While bell is held in the left had represents female element of wisdom and Dorje held in right represents the male element of skillful means along with compassion of the Buddha. During the chanting of the mantras the Bell and Dorje are used together in a variety of different ritualistic ways to represent the union of the male and female principles.
Prayer wheels as meditation gifts to Buddhist friends
Prayer Wheels are the most common prayer instrument among the Buddhist. These prayer wheels are mostly carved with Tibetan or Newari Letters signifying the mantra " Om Mani Padme Hum". The matras are also kept inside the wheels as paper roll filled with these mantra letters. The prayer wheels can be small or large based on the need. Smaller ones can be carried around by devotees. Large ones can be fixed and placed in places like gumba, monasteries, temples, shrines and even decorate your home. It is believed that turning of the prayer wheel full circle will give your peace and help you in meditating your mantras. Each turn of full circle is equivalent to reading a sutra or mantra that is inside the prayer wheel
Butter lamps for altar and prayers
Butter Lamps It is said offering light from the flame of Butter Lamp is the most powerful offering because their light symbolizes wisdom and awakened mind. The butter lamps are used in every Newari and Tibetan temples, monasteries, household and altars. The butter lamps are filled with butter ghee and burnt during prayers. Materials used to make them are generally copper, brass or silver and white metal. Silver or pure gold 24 k is oftern plated on the surface of these lamps where many Buddhist symbols are found to be carved .
Sankha or conch shell for prayers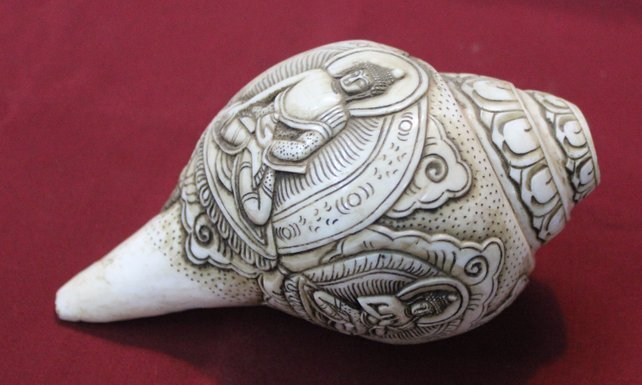 Sankha or Conch Shell is also known as an offering vessel. The Sankha has its ritual and religious significance in Buddhism. Sankha is one of the eight auspicious signs, the Asthamangala. The white Conch Shell of Sankha has survived as the original horn trumpet since time immortal. The sound produced by these shells penetrate and travel great distances.The instrument is used to call monks to worship and may also be used to invoke water and rain. It's a sign of good luck and stands for the absence of all evil as an attribute, symbolizing the glory of all holy men.
Prayer flags outdoor decoration for shrines and home decor
Prayer Flags- There are mainly two type of prayer flags. 1. Lungta 2. Darchor. Lungta are made to wave horizontally and Darchor prayer flags wave vertically. Prayer Flags are inscribed with auspicious symbols, invocations, prayers, Buddhist symbols and mantras. It is believed that the prayers and mantras of the prayer flags when blown by air towards the heaven will give blessings to the one who hangs the prayers flags. Not only to him but his neighbors and other beings in the vicinity. Prayer flags are said to bring happiness, long life. Old prayer flags are replaced with new ones annually on Tibetan New Year.
Phurba "the magic dagger' tantrik ritual
Phurba is also called 'the magic dagger'. Padmasambhava used the Phurpa to consecrate the ground when he established the Samye monastery in the 8th century. Phurba which is also called tantrik ritual dagger signifies destruction of evil force or obstruction. The dagger is often made using different materials like copper, brass or bronze. It is also found to be made of wood, bones of various animals. The lower part of the blade is said to represent "Method" while the handle "Wisdom". Phurba is considered essential and very important tool in surviving in harsh environment or in difficult places.
Offering bowls for altar setup perfect for meditation gifts
Offering bowls are generally a set of seven bowls that are placed on the altar of meditation room or on ones shrine. They are filled with holy water daily during prayers. It is also common to fill them with objects that symbolize the traditional offerings like flowers, incense, light, perfume, food etc. The seven bowls are not simply bowls, they are powerful reminder of seven aspects of Buddha and represent seven limb practicing method to purify negative tendencies and accumulating positive vibes.
Buddha Statues as a Buddhist gift for your loved ones.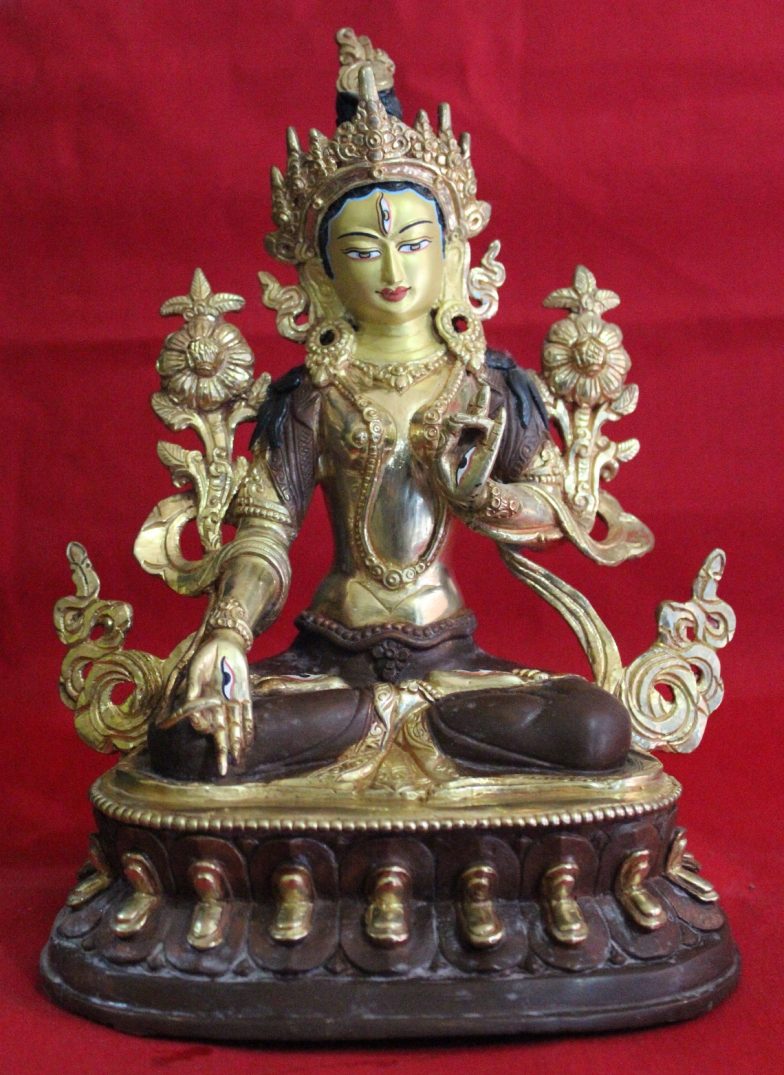 Buddha Statues is essential for meditation gifts. They can be placed in meditation altar, living room and bedroom. They can inspire and help you to focus on your meditation. Buddha statues are there to remind you of Buddha's teachings. So they can be treated as reminder to always do the good karma and keep practicing your spiritual drills. Now I hope you have much knowledge needed to make decision. So here you go now and act to give a meditation gift to your spiritual friend or loved one.
Estimated Cost: 197 USD
Supply:
Antique Look Shakyamuni Buddha Statue
Golden Buddha Statues
Tools:
Shakya Handicraft Buddha Statues
Materials: Copper, 24 k Gold